Breathe New Life into Summer Pieces this Fall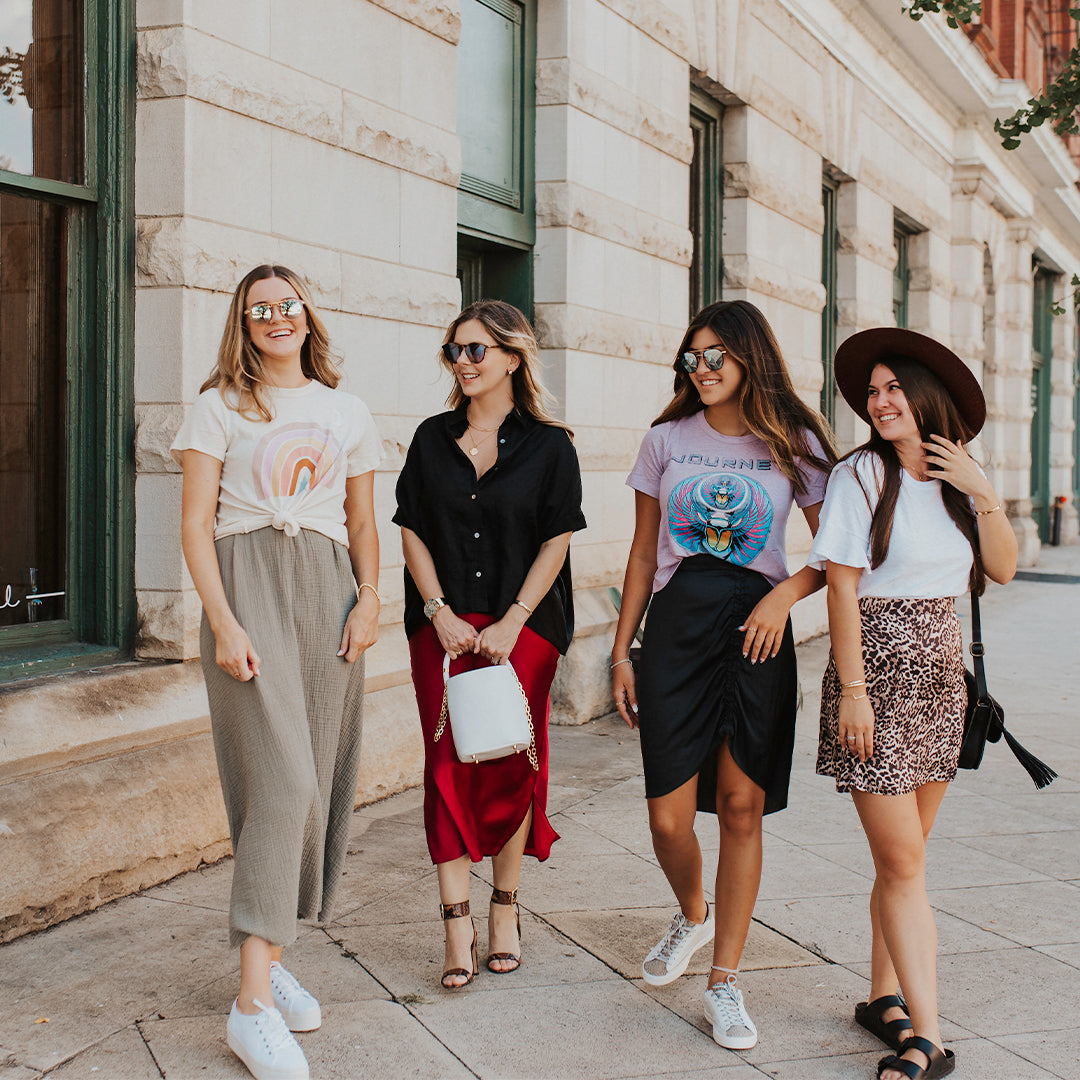 Fall is upon us, pumpkins will soon line porches, kids will start to plan their Halloween costumes, and the holidays will creep up before we can blink. The temperature will gradually cool, and you'll reach for a layer to help your summer wardrobe make the shift into breezier days. At Council, we thrive on versatility, and building smaller, more meaningful wardrobes. Today, I'm outlining a handful of tips to help you make the switch gradually into a new season.
COLOR PALETTE. If you're like me, you've probably been doing everything in your wardrobe power to make sure you're as cool as possible in the intense summer heat. White, breathable linen shirts, bright, patterned styles in lightweight fabrics, and more relaxed, roomy pieces have been my go-to looks for staying cool. For Fall, I like to go with more rich colors, navy or raspberry, deep coral or forest green, mixed with neutrals for a vibe that helps to mimic the season. Simply throwing on a new, rich color with those old boyfriend jeans can give them the cool contrast you crave.
The Jessica Skirt & Max Mini Bucket Bag
FABRICS. This one isn't what you think. I'm not going to tell you to stick to velvets, denim and cashmere, especially if you're in a climate that doesn't cool off for a while. True to our philosophy, I believe you should really wear most of your wardrobe year-round. So, it's totally okay to pair your white linen shirt with that navy stripe cardigan as long as it's balmy during the day and cooler in the mornings and evenings. Pair your gauzy dress with a leather jacket or blazer. In short, dress for the temperature, not so much the season. So while we of course want to make subtle changes to help our wardrobes shift, don't pack up the linen on Labor Day. Layer when needed, use darker, richer colors to contrast bright whites, but wear your linen if it's warm!
The Moonshine Tee, Lila Dress & Max Mini Bucket Bag 
LAYER. You know this one, but it's not just layering, it's how you layer. First, in the warmer weeks of September, you may not need much of a layer depending on where you live. Tie your favorite graphic tee over a strappy maxi dress, pop a lightweight cardigan on in the evening, or go with booties instead of open toe slides for an effortless Fall vibe.
ACCESSORIES. Accessories are the punctuation to an outfit. They make it "styled". In the summertime, we tend to go lighter on accessories, but it's time to beef them up. Layering necklaces or bracelets to give your silk blouse some edge, or throwing on a hat with your sweater or favorite dress just punches up your style a bit. Add a thick, leather belt to your bell bottoms or maxi dress, change out your handbag to something deep and rich, these little changes will put you in the mood to celebrate the new season.
Dorotea Dress, Karla Hat, Jojo Bag & John Sneakers 
CONTRAST. Mixing fabrics, colors, styles is one of my favorite ways to achieve an effortless, elevated look. Since shifting to fall means cooler days and probably more events, don't be afraid to pair your favorite graphic tee with a silk skirt, sneakers with a dress, or polished blazer with lived-in jeans. Styling the dressier items in your wardrobe with your everyday favorites can give new life to the pieces and give you a new style.
Journey tee, Jiji Skirt, John Sneakers
My best advice is, don't overthink it! Grab the things you love, or gravitate to the most, and try them with different combinations until you find something that feels right.
 Remember, we are always here to help with styling ideas and help you add new pieces to maximize your looks! Stop by the store, or message us for some quick ideas, or set up a mini-styling session to really give your style some game this season!
|
Posted on September 03 2020